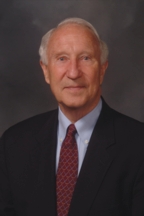 George W. Johnston
Referral Associate, GRI, SRES | Wellesley Office
781-249-0363
781-235-9307

About George W.
The ownership of Hammond has recently changed and we are now part of Coldwell Banker, one of the most impressive real estate organizations in the world. Our new owner appreciates the value of the Hammond brand name and we will now be doing business as Coldwell Banker Residential Brokerage - The Hammond Group. Our combined resources will provide an unmatched level of real estate marketing and brokerage services to everyone we have the pleasure to represent.
PLEASE click on this link to see my new website.
George moved to Wellesley from Montclair, New Jersey in 1970 with his wife and young daughter. In 1991, after a twenty-five year career as an executive recruiter, he became active in real estate. As a REALTOR®, George has worked successfully with individual buyers and sellers as well as builders, for whom he has handled the marketing and sale of new construction. George has kept abreast of the changing environment in his market area through active participation in community organizations. He is a member and past president of the Rotary Club of Charles River, a member and past secretary of the Wellesley Club, and has served as a director and past president of the Wellesley Community Center and trustee of the Wellesley Scholarship Foundation. Born in Brooklyn, N.Y. and raised in Northern New Jersey, George was educated in public schools before earning an AB and MS degree from Dartmouth College and its Thayer School of Engineering. He spent three years as an officer in the U.S. Marine Corps before starting his business career.
For a sampling of properties that George is currently marketing, please go to the Links page.